Posted by PackFreshUSA on Dec 7th 2017
If you received our December newsletter you know that we are all about cookies and baking this Christmas season.
We have used our Stand Up Pouches in conjunction with our oxygen absorbers and created some easy and crafty gifting ideas.
Our first recipe is a fun and easy sugar cookie recipe with the perfect frosting to decorate.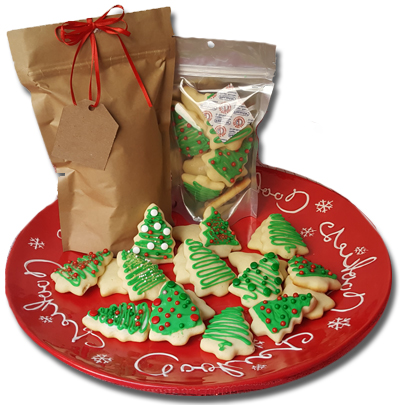 For the Cookies:
1 ½ cups unsalted butter, softened
2 cups granulated sugar
4 eggs
1 ½ teaspoons vanilla or other extract
5 cups all-purpose flour
2 teaspoon baking powder
1 teaspoon salt
For the Frosting:
2 cups powdered sugar
2-4 tbsp. milk
1 tablespoon honey
1 teaspoon vanilla or other extract
Food coloring
Instructions:
In the bowl of a mixer fitted with the paddle attachment, cream together butter and sugar. Mix in eggs and extract until well-combined.
In a separate bowl, whisk together remainder of cookie ingredients. Add dry ingredients to wet in batches until combined.
Divide dough into quarters, form into discs, and wrap in plastic wrap and chill for at least 1-2 hours.
Preheat oven to 400'
Remove one disc from fridge and roll out on floured surface until dough is 1/8"- ¼" thick.
Cut with cookie cutter and bake on an un-greased cookie sheet for 6-8 minutes, watching closely.

Cookies are done when bottoms are just barely golden brown.
For Frosting:
Combine sugar, two tablespoons milk, and honey. Adding more milk until frosting reaches desired consistency
We used our Kraft Stand Up Pouches (Large) and White/Clear Stand Up Pouches (Medium) for packaging our cookies. Don't forget to add an oxygen absorber, 100cc or 200cc, to maintain the right-out-of-the-oven freshness.
Our next recipe is perfect for gifting in a mason jar, as the ingredients are colorful and layer beautifully.
Layer all the dry ingredients in a glass mason jar, adding an oxygen absorber to keep everything fresh and ready for baking.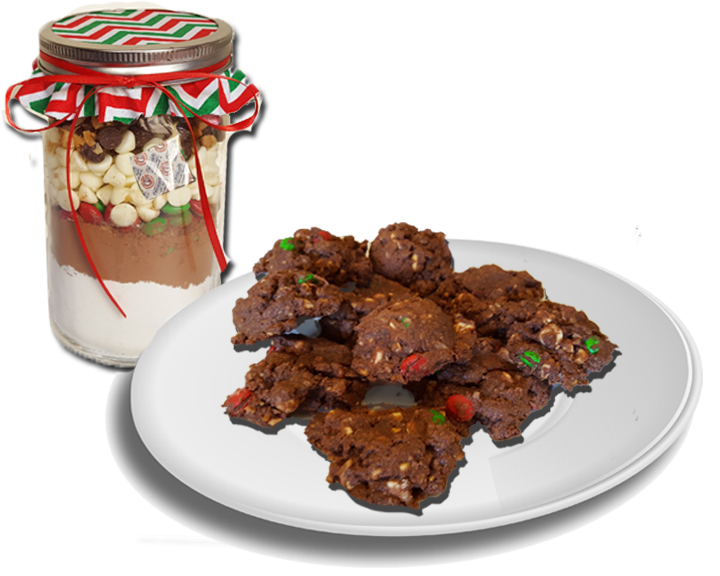 Super Chunky Christmas Cookies Ingredient:
1 cup toasted shredded coconut
1 cup semisweet chocolate chunks/ chips
½ cup chopped cashews
1 cup white chocolate chips
¾ cup red and green M&Ms
½ Cup Dutch-process cocoa powder
1 ½ cups all-purpose flour
¾ teaspoon salt
1 ½ -liter glass mason jar
1 100cc Oxygen Absorber (LINK)
Wet Ingredients: (Not included in jar)
1 ¼ cups sugar
2 sticks, softened, butter
2 eggs
1 teaspoon vanilla
Directions for baking:
Beat 1 ¼ cups sugar and 2 stick butter with a mixer until fluffy.
Beat in 2 egg and 1 teaspoon vanilla extract.
Add the super-chunky Christmas cookie mix and mix until well combined.
Let dough chill for about 1 hour.
Scoop big round cookies (about 2 heaping tablespoons each) onto a baking sheet.
Bake at 350 degrees until set, about 10 to 12 minutes. Cool on a rack.
Enjoy with a tall glass of milk.

Note: If gifting, don't forget to include your recipe with the jar!
Not much into baking or prefer gifting gift cards instead? We've got you covered!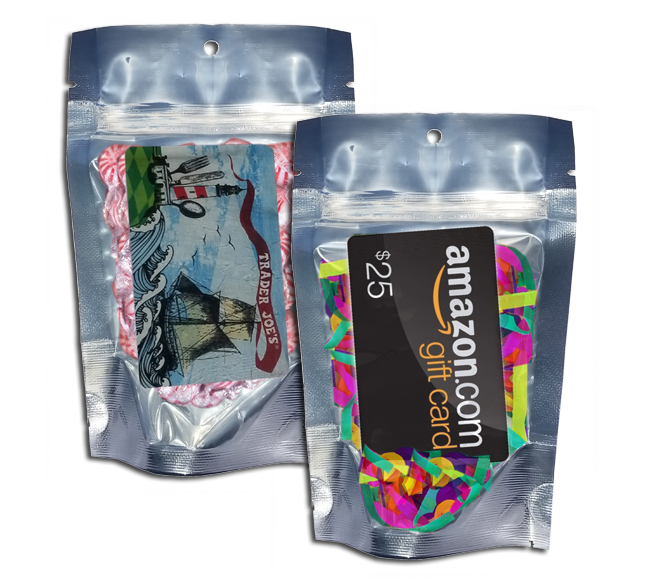 Our Gift Card Holder Goodie Bags make gift giving this holiday season much easier. Pick between mints or confetti and you have the perfect gift card holder (gift card not included).
PackFreshUSA Gift Certificates Available HERE