Posted by PackFreshUSA on Sep 1st 2023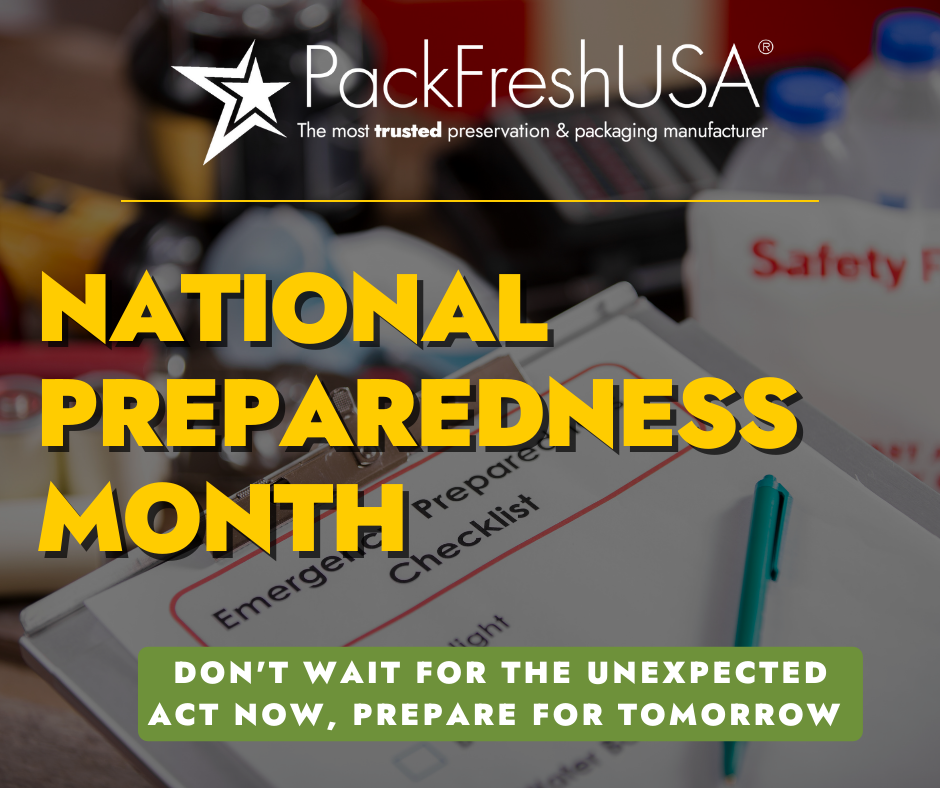 September is here, and that means it's National Preparedness Month!

At PackFreshUSA®, we believe that being prepared is essential for your peace of mind and the safety of your loved ones. We're here to help you become better prepared for any emergency.
Why Choose PackFreshUSA®?
Top-Quality Food-Storage Products: Our long-lasting, high-quality food storage products are specially designed to provide you with the solutions you need for your emergency preparedness.
Durable Storage Solutions: We offer a wide range of high-quality storage solutions, including mylar bags, oxygen absorbers, and vacuum sealers, to keep your emergency supplies fresh for years to come.
Expert Advice: Our team of experts is here to help you make informed decisions about your emergency preparedness needs. We're just a phone call or email away!
Top Tips for National Preparedness Month
Create a Family Emergency Plan: Sit down with your family and create an emergency plan that includes communication, evacuation routes, and meeting points.
Stock Up on Essentials: Ensure you have a sufficient supply of food, water, and other essentials to last at least three days in case of an emergency.
Check and Rotate Supplies: Regularly check the expiration dates on your emergency supplies and rotate them as needed to keep everything fresh.
Learn Basic First Aid: Consider taking a first aid course to equip yourself with essential life-saving skills.
Stay Informed: Keep yourself updated with the latest news and emergency alerts in your area.
---
Connect with us on social media throughout National Preparedness Month. Share your preparedness journey, ask questions, and learn from others in the PackFreshUSA community.
This National Preparedness Month, take a proactive step towards protecting your family and ensuring your peace of mind. Visit our website to explore our products, and keep up with our Prepper University Blog.
Thank you for choosing PackFreshUSA® as your partner in preparedness. Together, we can face any challenge that comes our way.

Helpful Resources:
Ready.gov: National Preparedness Month
Be Informed

Make a Plan

PackFreshUSA® Food-Calculator
Learn more about long-term food storage

Feel free to contact us for any questions regarding being prepared, long-term food storage, or any of our products.

Email us: customerservice@packfreshusa.com
Give us a call: 844-857-8277

Stay safe and prepared!